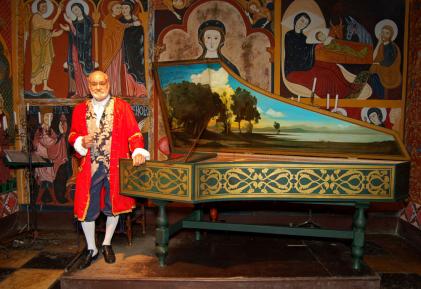 Roberto de Medina is a harpsichordist and a pioneer
in the dissemination of early music in the country.
He receives guests at his farm in Guaratiba for
harpsichord recital in the Chapel Magdalena, followed by
an exotic dinner by candlelight with actors and attendants
dressed in period costumes
Roberto de Regina é um cravista brasileiro e pioneiro
na divulgação de música antiga no país.
Ele recebe convidados em seu sítio em Guaratiba para
recital de cravo, na Capela Magdalena, seguido de
um jantar exótico à luz de velas com atores e serviçais
vestidos com costumes de época.
Go to Magdalena Chapel with us.
Pick up at your Hotel or residence.
Just relax and have a good time in Rio.
Vá à Capela Magdalena conosco.
Cuidamos de tudo pra você, buscando-os no Hotel ou em casa.
Relaxe e curta bons momentos no Rio.
or call Alberto Sabino for more Information
Um dos programas culturais mais exclusivos e requintados do Rio.
A Capela Magdalena , em estilo medieval, com pintura bizantina
feita pelo próprio maestro Roberto de Regina, é cenário para o recital de cravo,
seguido de jantar exótico à luz de velas, em ambientação teatral,
com serviçais vestidos em costumes de época.

O jantar, cozinha Indiana-Tailandesa, comandado pelo Chef Ronaldo,
é acompanhado de vinho selecionado.
A sobremesa é sempre uma boa surpresa
e o licor é servido em taças de chocolate.

Preço: R$150 por pessoa, incluindo:

Transporte com ar condicionado, concerto com o cravista Roberto de Regina,
jantar, bebida, sobremesa, cafezinho,
visita ao Museu dos Transportes e de Castelos (miniaturas).
Cuidamos de vocês do começo ao fim.

Mínimo de 10 pessoas para formação do Grupo.